Rosa studeerde tegelijkertijd met mij in Wageningen. Na mijn oproep voor recepten kreeg ik van haar vier recepten uit haar thuisland, Indonesië. We hebben elkaar jammer genoeg nooit ontmoet, maar haar recepten maak ik met plezier!
Dit is een simpel maar zeer typisch Indonesisch gerecht. Rosa mist dit altijd wanneer ze niet in haar thuisland is. Er zijn veel variaties van mogelijk, zo kunnen er veel verschillende groentes worden gebruikt en de saus kan pittig zijn of juist niet. Rosa's moeder maakte dit gerecht vlak voor haar dochter voor ze naar Wageningen vertrok, omdat ze zich zorgen maakte dat ze misschien niet zo goed zou eten in Nederland.
In dit recept omschrijf ik hoe ik de door mij gekozen groentes heb bereid. Maar voel je vrij om andere groentes te kiezen! Denk bijvoorbeeld aan spinazie, kousenband, sperzieboontjes en mais. Gebakken tofu en tempeh zijn ook een erg lekkere toevoeging. Als je geen sterke blender hebt of gewoon sneller pindasaus wil maken, kan je ook pindakaas gebruiken in plaats van rauwe pinda's.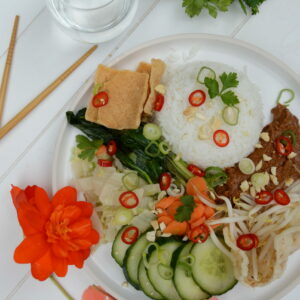 Nasi pecel
Indonesische rijst en groentes met pindasaus van Rosa
Ingrediënten
Pindasaus
1

cup

rauwe pinda's

chili

knoflook

zout

palmsuiker

kaffir lime bladeren
70

gram

taugé

2

wortels

2

kleine paksoi

1/2

spitskool

1/2

komkommer

300

gram

tofu en/of tempeh, gebakken

optioneel

cassavekroepoek
Instructies
Verwarm de oven voor op 170XC.

Spoel de rijst goed af totdat het water helder van kleur is. Laat dit uitlekken, en doe de rijst dan samen met 360 ml water in een pannetje. Breng dit aan de kook en zet het vuur op een laag pitje. Het vuur mag uit zodra het water bijna helemaal opgenomen is. Laat de rijst dan afgedekt staan totdat de rest van het gerecht klaar is.

Rooster tussendoor de pinda's in de oven tot ze goudbruin zijn. Rooster de chili en knoflook in een pan met wat olie. Mix dit allemaal samen in een blender samen met water, zout, (palm)suiker en kaffir lime bladeren. Verwarm dit in een pannetje op het vuur en breng zo nodig verder op smaak.

Blancheer de wortels, giet het kookvocht over de taugé om deze licht te garen. Bak de paksoi en spitskool los van elkaar in een wok of koekenpan. Breng op smaak met een beetje zout. Snij de komkommer in plakjes.

Maak een mooi bord met alle ingrediënten en geniet!