Bijna tien jaar geleden maakte ik als project voor een vak op de universiteit een vegan kookboekje. Het project werd een beetje te groot voor het vak, dus ging ik er in mijn eigen tijd mee verder. Het resultaat was een boekje met 50 vegan recepten. Ik zocht sponsors, investeerde wat spaargeld en liet 500 boekjes drukken. In die tijd waren er nog amper vegan kookboeken in Nederland, wat een verschil met nu! Ik verspreidde het boekje in mijn omgeving en verkocht het in een aantal winkels in Wageningen. Als ik nu naar dit boekje terugkijk zie ik honderd dingen die ik anders zou doen. Dat is maar goed ook, anders zou het betekenen dat ik in al die tijd niet veel geleerd heb. Er zitten echter nog wel een hoop goede recepten in het boekje, die ik dan ook nog geregeld maak. Andere recepten was ik bijna vergeten, zoals dit recept voor appel-amandeltaart! Hoog tijd dus om dit recept nieuw leven in te blazen, want er is niks mis met deze taart. Integendeel, ik krijg al zin in een stukje terwijl ik dit schrijf…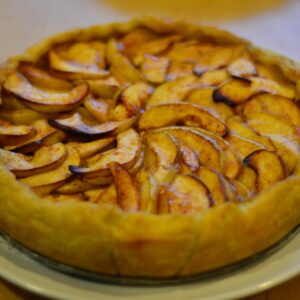 Appel-amandeltaart
Een taart die eigenlijk heel gemakkelijk is om te maken, en toch spectaculair lekker én mooi is!
Ingrediënten
3

appels

geschild, in partjes en in dunne schijfjes

7

vellen

bladerdeeg

dubbelcheck of deze vegan is!

125

gr

plantaardige boter

2

el

ei-vervanger

of appelmoes

125

gr

gemalen amandelen

75

gr

suiker

3

el

abrikozenjam

1

el

tarwebloem

1

el

kaneel
Instructies
Verwarm de oven voor op 180 °C.

Smelt de boter op een laag vuurtje en meng deze met de suiker en de ei-vervanger. Voeg de amandelen en het tarwebloem beetje bij beetje toe. Roer goed.

Vet een springvorm in en bedek deze met bladerdeeg, maak een rand van ca. 5 cm.

Giet het amandelmengsel op de bodem, verdeel het goed.

Meng de appelschijfjes met kaneel.

Bedek de amandel-laag dakpansgewijs met de appelschijfjes (zie afbeelding).

Verhit de jam met 2 el water, mix glad met een staafmixer indien nodig. Verdeel dit mengsel met een kwastje over de taart.

Bak de taart 45 minuten of tot het bladerdeeg lichtbruin is.