Hoi, even iets over mij! Ik ben Eveline, 29 jaar en ik hou van eten en alles wat leeft. Daarom ben ik vegan chef! Ik heb al ruim tien jaar de missie om mensen ervan te overtuigen om minder vlees te eten. In eerste instantie deed ik dat door aan de universiteit van Wageningen te studeren over gedragsverandering en strategische communicatie, maar na een tijdje kwam ik erachter dat mijn ware passie bij voeding ligt. Via voedsel wil ik mensen laten ervaren hoe heerlijk vegan eten kan zijn. Het is inmiddels al meer dan tien jaar mijn werk om mensen blij te maken met vegan eten. Dit deed ik in verschillende professionele keukens in Nederland, België en Zwitserland. Tegenwoordig ben ik ZZP'er en werk ik in Wageningen als cateraar vanuit mijn eigen bedrijf "Eveline Cooks". Je kan mij dus boeken als chef voor je evenement!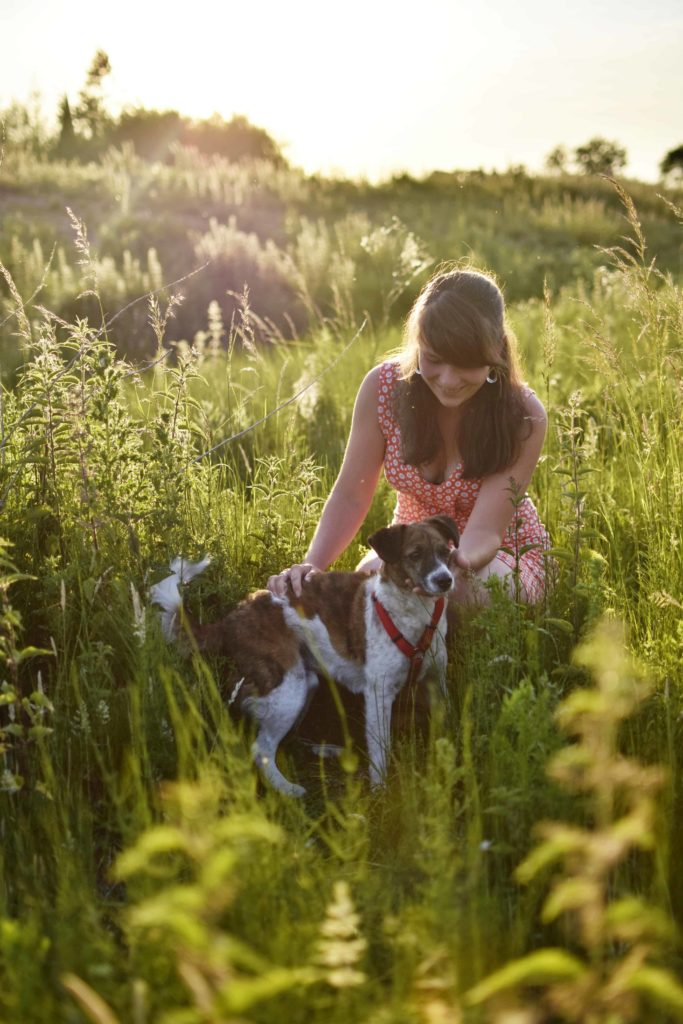 Mijn hoofd zit vol met recepten van zowel anderen als van mijzelf. Begin 2022 publiceerde ik mijn kookboek "Vegan de wereld rond". Dit boek staat boordevol met recepten van mensen van over de hele wereld. Benieuwd? Neem een kijkje in de webshop!
Naast koken heb ik ook nog andere passies, waarbij mijn hond Tosca absoluut op nummer één staat! Ik adopteerde hem drie jaar geleden. Op dat moment was hij ongeveer twee jaar oud en had hij zijn leven tot dan toe doorgebracht in Spanje, op straat en verschillende asielen. Tosca en ik doen niets liever dan samen de wereld ontdekken, al rijdend in ons zelfgebouwde camperbusje en wandelend over smalle wandelpaadjes. In 2019 was dat voor zes maanden alles wat we deden: samen verkenden we Europa, op zoek naar de mooiste plekken om te wandelen, altijd in voor avontuur. Later maakten we samen een lange fietstocht door Scandinavië. Op mijn instagram pagina @tosca_and_his_van zijn foto's van onze avonturen te zien.
Anne van oostveen
2023-01-17
Op de yogadocente opleiding waar ik vorig jaar was heeft Eveline voor ons gekookt. Het eten was gezond, kleurrijk en vooral harstikke lekker. Soms zaten er kruiden en bloemen bij die ze zelf had geplukt. Elke dag een nieuwe verassing en genieten!
Good food, full of taste and completely vegan! Also service and instruction are nice. Only communication was sometimes a little bit slow, but definitely something that would hold me back from ordering something from her again in the future!
Katharina Wegener
2023-01-01
Great food!
Jochen Bilderbeek
2022-12-31
Heerlijk eten, elke keer weer!
Amazing tofu and peanut sauce dish, very tasty, great quantities of food and variety of vegetables and salad. Adam, (acro new year)
Martijn Gesink
2022-12-26
Heerlijk vegan kerstmenu voor thuis gehad. Onze eerste ervaring met lupineboontjes is uitstekend
femke goedeker
2022-12-18
Unbeschreiblich lecker. Vollwertige Lebensmittel verzaubert zu puren Genuss.
Juan Manuel Gigena
2022-12-17
Amazing vegan food with love, thank you!
Nikoleta Koutitsa
2022-12-17
Great food during dutch acro festival! Thank you so much !
.