Wil je extra's toevoegen aan je buffet? Dat kan! Denk aan extra brood, drank of een nagerecht. Servies en bestek huren is ook mogelijk.
Drankenkaart
Homemade ice-tea €4,50 per liter, 5 liter tapje voor €20.
Vlierbloesem bubbels met huisgemaakte siroop van Wageningse bloesems, €4,50 per liter, 5 liter tapje voor €20.
Lokaal vruchtensap van Otto Vloedgraven Fruit, keuze uit appel, appel-peer of peer

Literfles voor €4,00
5 liter pak voor €17
0,2 liter flesjes appel-peer of appel-rode bes €1,60

Kombucha van de Kombucha Masters Wageningen, wisselend aanbod
Biologische Wijn van het Wageningse Wijngoed €19,90 per fles. Wisselend aanbod.
Bier van Stadsbrouwerij Wageningen, wisselend aanbod
Koffie/thee onbeperkt €6,00 p.p.
Supplementen
Wagenings zuurdesembrood met vegan kruidenboter €6 p.p.
Seizoenssoep €5 p.p.
Salade €5 p.p.
Nagerecht €5 p.p. (keuze uit brownie, kokospudding (GV), limoencheesecake)
Borden en bestek huren? Dat kan voor €3,50 per persoon.
€1,00 p.p. voor het huren van glazen en/of kopjes.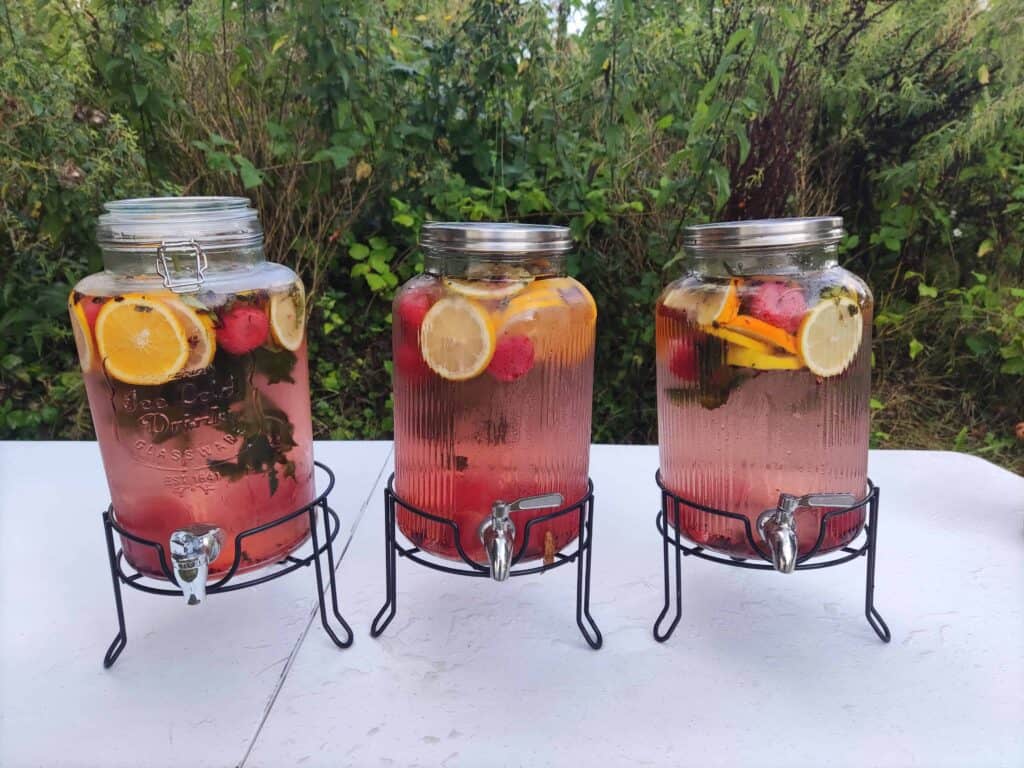 Anne van oostveen
2023-01-17
Op de yogadocente opleiding waar ik vorig jaar was heeft Eveline voor ons gekookt. Het eten was gezond, kleurrijk en vooral harstikke lekker. Soms zaten er kruiden en bloemen bij die ze zelf had geplukt. Elke dag een nieuwe verassing en genieten!
Good food, full of taste and completely vegan! Also service and instruction are nice. Only communication was sometimes a little bit slow, but definitely something that would hold me back from ordering something from her again in the future!
Katharina Wegener
2023-01-01
Great food!
Jochen Bilderbeek
2022-12-31
Heerlijk eten, elke keer weer!
Amazing tofu and peanut sauce dish, very tasty, great quantities of food and variety of vegetables and salad. Adam, (acro new year)
Martijn Gesink
2022-12-26
Heerlijk vegan kerstmenu voor thuis gehad. Onze eerste ervaring met lupineboontjes is uitstekend
femke goedeker
2022-12-18
Unbeschreiblich lecker. Vollwertige Lebensmittel verzaubert zu puren Genuss.
Juan Manuel Gigena
2022-12-17
Amazing vegan food with love, thank you!
Nikoleta Koutitsa
2022-12-17
Great food during dutch acro festival! Thank you so much !