Naast catering voor een enkele maaltijd, verzorg ik ook meerdaagse catering op locatie. Ik kan ook locatie komen koken voor bijvoorbeeld een meerdaagse retreat. Op deze manier kan ik de organisatie 100% "ontzorgen" en de verantwoordelijkheid voor het eten voor het evenement volledig op me nemen.
Geen keuken? Geen probleem, die kan ik zelf meenemen! Het enige wat ik nodig heb is plaats voor mijn keukentent en toegang tot water en elektriciteit.
De prijzen voor meerdaagse catering op locatie is afhankelijk van allerlei factoren. Ben je geïnteresseerd in een samenwerking? Vul dan deze vragenlijst in en ik kom bij je terug met een offerte op maat. Eerst even mailen of bellen kan natuurlijk ook.
Benieuwd naar het soort eten wat ik maak? Neem dan zeker een kijkje bij mijn verschillende buffet arrangementen. Let echter niet teveel op de prijzen, aangezien deze berekend zijn voor korte evenementen. Deze kunnen dus anders uitvallen dan een meerdaags evenement met meerdere maaltijden.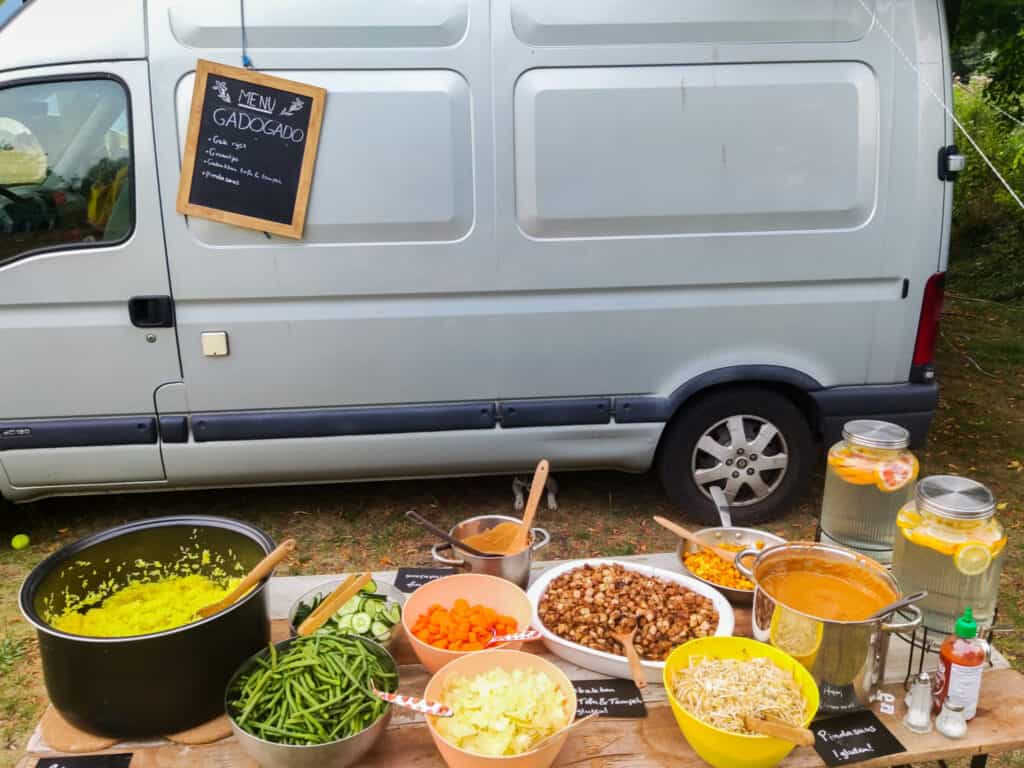 Anne van oostveen
2023-01-17
Op de yogadocente opleiding waar ik vorig jaar was heeft Eveline voor ons gekookt. Het eten was gezond, kleurrijk en vooral harstikke lekker. Soms zaten er kruiden en bloemen bij die ze zelf had geplukt. Elke dag een nieuwe verassing en genieten!
Good food, full of taste and completely vegan! Also service and instruction are nice. Only communication was sometimes a little bit slow, but definitely something that would hold me back from ordering something from her again in the future!
Katharina Wegener
2023-01-01
Great food!
Jochen Bilderbeek
2022-12-31
Heerlijk eten, elke keer weer!
Amazing tofu and peanut sauce dish, very tasty, great quantities of food and variety of vegetables and salad. Adam, (acro new year)
Martijn Gesink
2022-12-26
Heerlijk vegan kerstmenu voor thuis gehad. Onze eerste ervaring met lupineboontjes is uitstekend
femke goedeker
2022-12-18
Unbeschreiblich lecker. Vollwertige Lebensmittel verzaubert zu puren Genuss.
Juan Manuel Gigena
2022-12-17
Amazing vegan food with love, thank you!
Nikoleta Koutitsa
2022-12-17
Great food during dutch acro festival! Thank you so much !